DR SAVERIO FERRARI PARABITA, DENTIST
Degree in medicine and surgery from Milan University (San Raffaele Hospital) in 1990.

He attended the department of maxillofacial surgery of Spedali Civili di Brescia, including its operating theatres; he was able to assess pathological dysfunction, craniofacial trauma, cancer and reconstruction of the cranio-maxillofacial region, with special interest in oral surgery and implantology. In the outpatient surgery department of the hospital he studied the symptoms of bone disease, periodontal disorders, cystic lesions of the jaws and diseases of the oral cavity.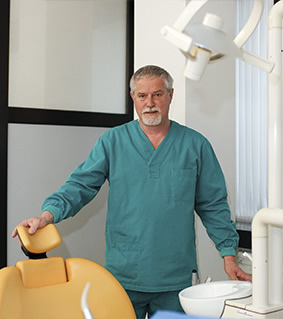 In this department he developed an interest in reconstructive implant surgery in cancer patients.

A speaker on courses and at national conferences on the subject of immediate loading implantology, he works as a surgical consultant to private bodies and at his own practices in Brescia and Bergamo, as well as teaching on advanced implant surgery courses accredited to the Italian ministry of health as part of its continuing medical education programme.


He is now an adjunct professor on the refresher course on implantology by intraoral welding at Chieti University. He participates in conventions and conferences on the subjects of implant surgery, intraoral bone regeneration, prosthetic implants and oral surgery, both in Italy and abroad. In recent years he has contributed as a teacher and lecturer to courses and reports on immediate-load implantology using intraoral welding.

Founder member of IAfIL (International Academy for Immediate Loading). Member of ANDI (Italian Dentists Association), member of AISI (Italian Academy of Stomatology and Implant Prosthetics), member of SICO (Italian Oral Surgery Society).