Oral surgery includes all procedures within the oral cavity, such as tooth extractions or removal of cysts.

What is oral surgery?
Also known as dental surgery, it covers a whole series of surgical procedures aimed at solving particular adverse anatomical conditions that detract from the patient's health.

The field of oral surgery is fairly broad, ranging from the oldest procedure – tooth extraction – to the most innovative techniques of bone reconstruction surgery.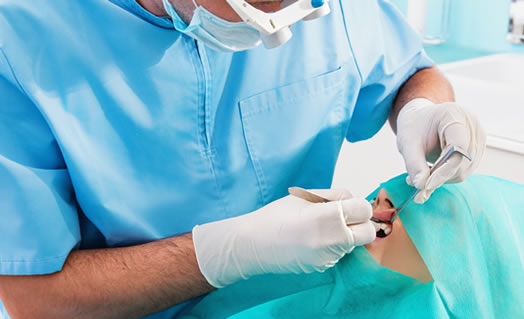 Examples of procedures are:

- extraction of irreversibly damaged teeth
- extraction of impacted teeth
- disimpaction of retained teeth, which are then repositioned
- endodontics
- removal of cysts or small tumours from the soft or bony tissues of the oral cavity.
- removal of exostoses (bony projections)
Because of their custom-designed facilities, ideal for oral and dental surgery, and the team of experts working there, Dr Saverio Ferrari Parabita's practices in Brescia and Bergamo offer all the above procedures, after careful diagnosis of the patient.

In the case of dental extraction it is necessary to restore chewing function and cosmetic appearance, to allow patients to regain their normal condition and resume their social and family life as soon as possible. For this, immediate loading implants fitted by intraoral welding can be offered.